In the last couple of days, we've had one of the toughest jobs in the world. The quality of the applications for the Hostwriter Prize left us ecstatic, though made the task of narrowing it down to potential winners a truly tough one. There were so many great project proposals: From the German-Italian-Spanish-Swiss investigative inquiry into the practice of loan sharks to the Spanish-Romanian writing-alliance tackling the issue of migration. From the changing sex industry in times of financial meltdown in Greece to the "living magazine" of a collaborative journalism salon. We would like to share the wonderful ideas of these final projects with the Hostwriter community as it seems a shame that it should just be us who has the privilege of reading more than one.
Here they are, the five finalists for the Hostwriter Prize: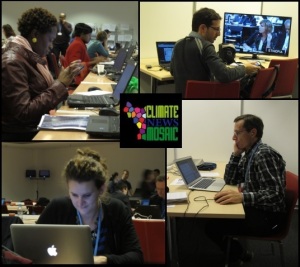 "When media outlets in many countries cannot afford sending their correspondents to the event, or even perceive it as a distant happening with little relevance to domestic audiences, we saw the potential. The aggregation of  local viewpoints helped making the coverage 'glocal', in the same way the climate crisis is at once global and local in both its causes and impacts." That's how "The Climate News Mosaic" explained its collaborative approach to reporting about UN Climate Change Conferences. Italian journalist Silvia Giannelli, Ido Liven from Israel and Costa Rican Diegao Arguedas Ortiz started their teamwork at the Warsaw summit in 2013 and have continued working as  an independent, non-profit collective of environmental journalists now based across five continents – from Canada to the Philippines and from Germany to Brazil – producing radio, video and textual stories in nearly ten different languages.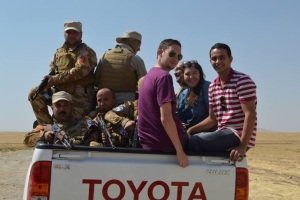 "What do people take with them when they only have a matter of seconds or minutes to escape? What stories, histories, emotions and thoughts does that item bring, and how does it now bring comfort?" That's the questions Palestinian photo- and videographer Abed al Quaisi, Scottish researcher Matthew Vickery and Palestinian-American journalist Sheren Khalel raised in their multimedia-piece about refugees at the Turkish-Syrian border. Their aim was to show the individuality of each person, rather than seeing them purely as a number published by refugee organisations or NGOs.
"Some work some play. India's working children unionists" (to be published)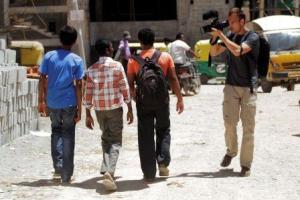 "We first met the boys in 2012 when they were 11 years old. When we met them in the summer of 2014, it was disconcerting to find out that they had both dropped out of school. The boys were now working their mornings at the wholesale market and the rest of the day as construction site workers." The project of Indian journalist Gayatri Parameswaran and German journalist Felix Gaedtke aims to track two Indian boys'  journey from adolescence into adulthood in the form of an immersive, interactive website with a series of multimedia elements like photographs, videos, graphics and audio. Hostwriter helped in so far that Gayatri and Felix began networking in their regions and got in touch with a colleague who has been advising which outlets would be suitable to reach out to children with this story.
"Violence in the Central African Republic" (research)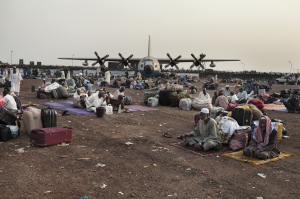 "Collaboration doesn't enhance our reporting. It alone makes it possible. Our collaboration is designed to go beyond pure utilitarianism and cost-sharing. As a team of three collaborators with different backgrounds, we will bring international, continental and local perspectives to the table." That's how German journalist Peter Dörrie, South African journalist Simon Allison and Jean-Louis Gondamoyen, journalist from the Central African Republic, put their motivation into words why they are going to cover the civil war in the Central African Republic together. Their aim is to tackle the political reasons and go beyond the scheme of religious hatred as an explanation for the war that has been going on since December 2012. (Picture: UNHCR/A.Greco)
"25 Years Fall of the Wall" (published)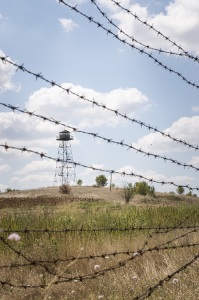 "Since there weren't any Bulgarian colleagues on Hostwriter at the time, I had to track Diana Ivanova through other channels. I'm writing this application from Wroclaw, where I successfully contacted Polish colleagues via Hostwriter. This platform is incredibly helpful." That's what German journalist Dagmar Gester wrote to us, and we are really happy to hear that Hostwriter is slowly making its way in more and more countries. She made a cross-border-research with Bulgarian journalist Diana Ivanova covering the implications of the Wall in Germany and Bulgaria. Inquiring into national narratives of recent history and bringing them into a critical relation, we feel that this German-Bulgarian writing alliance is a great example of the power of collaboration.
Unfortunately, all other projects didn't make it into the final shortlist. Given the inundation of great ideas and collaborations we received this really is not a negative comment on the creativity of and quality of the other applications. We wish every project could be awarded! Thank you all for proving to us the fantastic results achieved through collaboration and please bear next year's Hostwriter Prize in mind when undertaking new research and projects! We'll get back with the final decision on the Hostwriter Prize before Christmas.