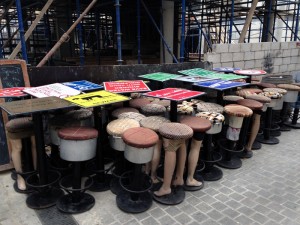 Don´t get me wrong: I love Hamra, the bustling hub in Beirut with nice cafés, fancy bars and a good nightlife. I enjoy staying here with my two roommates and the four cats. But last week, I really had it. Things started to go wrong on Tuesday morning when my roommate got a phone call from the international news agency she works for, urging her to show up in the office – it was the day of the bombings next to the Iranian embassy that killed at least 25 people and wounded more than 150. The bad week ended when I attended a PR event on Saturday that I was supposed to cover for a Lebanese newspaper: A cameraman who was filming the show fell down from the top floor of a six-storey-building and landed on the ground, exactly where I stood just before. Had the cameraman fallen five minutes earlier, I would be dead now. Had he jumped one meter to his left, he would have killed other people who gathered for the event. Due to sheer luck, the cameraman survived: I saw his body in free fall when he first hit the electric cables and then the marquee of a restaurant on the ground floor of the building. The guy fell on his back and I don´t know if he will ever walk again, but he is alive. One of his colleagues later told me that cameraman had a panic attack and jumped off the building.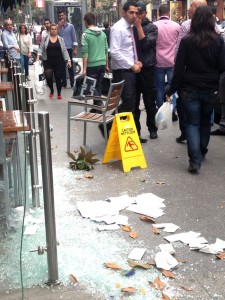 What a nightmare. Sure, accidents or suicides happen everywhere. But this nevertheless added to my subjective feeling of insecurity and the notion that anything could happen around the corner, anytime. Following the principle of hostwriter, I got in touch with my little network of colleagues that I´ve managed to get to know so far. I asked them: How do you cope with the bombings in Bir-Hasan? And how do you deal with stuff like that accident? A very nice Lebanese journalist was straightforward with me: He said that even though he is kind of "accustomed" to tragedies because they happen a lot, he will never get used to them. He was once on medication in the past (which is quite a taboo, "Psychotherapy is not part of our culture", he said). The answer of another very experienced colleague wasn´t less gloomy, either: He told me that he used to drink until this started to interfere with his work as a driver for international journalists. Since then, he has replaced the alcohol with smoking Shisha whenever he can. From all the strategies I heard of, there was one that I liked best: "Do sports and go shopping!" That´s exactly what I did.
Last week has shown me that a Hostwriter-style network of colleagues doesn´t only help when you have questions and inquiries regarding journalism. It also saves your butt when things go crazy and you don´t know what to do. Talking to Lebanese and German journalists in Beirut helped me so much this week. Thank you all, my dear colleagues, for your support! To end with something cheerful: On Friday, two days after the bombings in Bir-Hasan, Lebanon celebrated its 70th anniversary of Independence. Coming from Germany, seeing kids in military outfits is always something intriguing for me to watch. Enjoy!