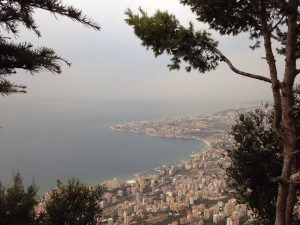 My stay in Beirut is over – time to check out the fruits of the experiment: Has "Hostwriter"-style networking helped me to find stories in Beirut? Have I met protagonists who I wouldn´t have if I relied on news agencies or Google-search only?
I´m positive: yes, it worked!
One of my first radio interviews was with a group that – ok – you DO find via Google, but without my German colleague Sabine Rossi, I wouldn´t have known that they dramatically changed their work: Masasit Mati became famous when they started their puppet theater "Top goon – Diaries of a Little Dictator" in November 2011.
In the YouTube-show, they portray Syria´s president Baschar Al-Asad as a winy despot. These outrageous slapstick performances brought several death threats to the members of the group. Ultimately, they were forced to flee their country (together with the puppets) and seek refuge in neighbouring Lebanon. Jameel, "head" of the group, never tells his real name to journalists and is very cautious as to not reveal his age, his looks, or family background. When I got in touch with him and mentioned me being a colleague of Sabine, I think I profited from a leap of faith: I was allowed to visit Jameel where he and his group were rehearsing their new show.
Masasit Mati no longer works on "Top Goon" because for them, it´s not about being internationally acclaimed YouTube-stars. They want to reach the Syrian people: " We are now working on a street theatre with puppets and actors that we perform inside Syria. We want to tell a human story for the people who persevere this time of destruction and death", explains Jameel. For this mission, the members of Masasit Mati are risking their lives – every time they cross the border to Syria, whenever they show their work. My radio portrait "Art as Resistance – the Syrian artists´collective Masasit Mati" was broadcasted at Deutschlandradiokultur on January 3rd, 2014.

Yet another opportunity presented itself when I was sharing a taxi with my German colleague Cigdem Akyol on the way to an interview: Cigdem had researched about the Art Residency Aley (ARA), a privately-run residency where Syrian artists find refuge for monthly residencies at a beautifully restored place. It was very nice of my colleague when she asked me if I would like to join her for this interview (thank you once again!) – I made a portrait about the place, its artists and its good soul, Raghad Mardini, who runs the place with a lot of power, dedication and love: "A Syrian Villa Massimo: The Syrian Art Residency in Aley" (Deutschlandradio Kultur, January 8th, 2014). This day also led to another unexpected event that I would like to share with you: Imad, one of the artists we met in Ailey, invited us to a party where Syrian bands performed in a private apartment in Beirut. On the terrace, I happened to run into the members of "Khebez Dawle".
The musicians are all in their early twenties, they left their country at the last minute to avoid military service. "I couldn´t imagine to fight against other Syrians", says the lead singer of the group. I loved the concert and am looking forward to the release of their new album which is scheduled for mid-2014! With quotes from all these Syrian artists mentioned above, I gave a radio interview about Syria´s exiled art scene in Beirut: "The other side of the crisis: Syrian Artists in Lebanon" (Deutschlandradio Kultur, Jan. 7th 2014, moderation: Susanne Führer).
Another example of "Hostwriter"-style help led to a day trip that I now consider one of the strangest yet revealing experiences of my time here in Lebanon: The visit of "Mleeta, Tourist Landmark of the Resistence". The 60,000 square meter outdoor "theme park" is run by the "Lebanese Association for Tourism & Tradition" but speaks the language of Hezbollah, a Shi´a Islamic militant group and political party based in Lebanon. Opened in 2010,  Mleeta gives an unparalleled example of counter-propaganda, portraying Hezbollah´s version of history: "This is a natural museum, surrounded by the captivating nature and mountains. Its aim is to preserve the places where the Mujahideen lived, giving people the chance to be acquainted with the style of the unique experience of the Islamic resistance against the Israeli enemy, since its occupation of Beirut in 1982", it says on the official website.

As a journalist, learning more about the narrative of resistance was helpful in terms of gaining a deeper understanding why Hezbollah´s military wing is listed as "terrorist organization" by most western countries – while at the same time, Hezbollah enjoys approval from many Lebanese, not only from Shi´a in the South. Too bad that I didn´t get an answer to my question why Hezbollah is now fighting in Syria (where the war is clearly not about Israel…). How I found the place? First of all, a friend of Cigdem knew about the existence of a "Hezbollah museum". Google didn´t help, but the concierge of a hotel pulled out the name that another friend later confirmed: Mleeta. Thanks to the general introduction into how things are run in Lebanon´s South by our Lebanese colleague Moe-Ali Nayel; we were well prepared when we drove south to Dahieh, to the Hezbollah Press Office, where I got an official media accreditation for Mleeta. So here we go, impressions from Hezbollah´s side of the war.
These are just three short examples out of many.
To me, they really strengthened my belief in Hostwriter: yes, cooperation works!!!