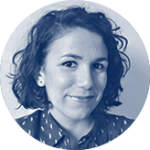 Hostwriter member Mridula Amin smiles on the other side of the Skype interview screen at 10:00 pm in Sydney – midday in Berlin. Even at the end of her day, this Dhaka-born Australian photojournalist is full of enthusiasm. Back in 2015 she shot a powerful photo series in Sittwe, Myanmar. One photograph is Hostwriter's header picture this March. Interview: Olalla Tuñas.
---
HOSTWRITER: What's the story behind your photograph?
MRIDULA AMIN: I took this photo on my first day at a refugee camp called Dar Paing, which was inhabited mainly by Rohingya women. It was really hard hit and didn't have as much food as the other camps. When I arrived, those women recognized that I have a Muslim face and opened up to me. A lot of women came out and started hovering around that main woman you can see in the center of the photo. That's how I got this beautiful image with the young women in the back and this strong female character in the middle. I think it's beautiful because it shows the pain and suffering but also bounces back the idea of resilience. With my work I never want to do 'poverty porn', I want to show something powerful within the chaos.
How important was it to get in touch with local journalists?
I think that's really important. Up until 2015, the Rohingya Crisis wasn't as widely reported as it is currently. When I arrived there, there was maybe one more journalist working. By having a local colleague take you through what's happening on the ground, you get a completely different perspective that helps you find your angle. Local journalists are able to see the bigger picture that you're not able to see from a country across the sea. So I always have a chat with people who have already been there to see how hard it is to work in that environment, if you should trust officials or whether you should hire a journalist-fixer. These are questions you can't get answers to unless you talk to someone who is on the ground.
What's your experience with collaborative journalism, so far?
I worked with a local journalist in India. He was more like a fixer and provided me with production assistance during a 3-day-shoot. But we worked in a collaborative manner because he had skills that I didn't have. I find collaboration interesting because you can argue about things, and you have someone to look into your story and call out your bias, as well.
Are you looking for collaborators at the moment?
One hundred percent! I'm always talking about it: If you're a writer, I can provide you with photos; if you want an investigative piece and you need someone to assist, I am there, because that's how you can make more connections in journalism and be able to work on stories in a collaborative manner.
In your past work, what were the main difficulties or obstacles you faced?
I started working as a photojournalist when I was 21. As a female, traveling for work is sometimes hard because you really can't carry yourself the same way white males do. The most difficult part is being able to understand the situation you're in. This can be very complex when taking photos. Logistically, the environments you're working in are really tough, but I think it's also about learning to make decisions about where you should place yourself – just risk for a cause. The question is always how far you want to go for a story.
Do you think platforms like Hostwriter can help overcome these obstacles?
Yes, for sure. Talking with someone who has already been through it, or being able to ask someone "How do I deal with it?" if something happens is really valuable. If you work for publications, you can call an editor, but most of the time you try to sell your work later, especially if you're a young photojournalist like me. Just having that connection, having that knowledge open to you, is really helpful.
Hostwriter member Mridula Amin works as a journalist in the newsroom for SBS, a public broadcaster in Australia.