As we enter 2020, we at Hostwriter are looking back at an incredible year of "firsts" for Hostwriter.
In the first several months of 2019, we conducted our first multi-lingual outreach campaign to expand Hostwriter's membership into new countries. With videos in Arabic, French, Spanish, Portuguese and English, our campaign helped us grow from having members in 138 countries at the end of 2018 to 152 countries at the end of 2019.
To support this growth in member diversity, in August, Hostwriter enlisted Mariana Delgado Baron and Mohammad Bassiki to serve as conversation editors for HostWIRE en español and HostWIRE العربیة (HostWIRE Arabic) the first non-English conversation spaces on our platform.
Of course, the publication of our first book – Unbias the News: Why diversity matters for journalism – was the highlight of the year for us and has enabled us to champion the importance of cross-border collaboration. As we have said over and over in the many news articles and podcasts in which we've promoted the book: "Diversity is not about political correctness. It's about quality journalism." In particular, we're proud that Unbias the News was mentioned as one of "10 Collaborations that left a mark on 2019" by the U.S.-based Center for Cooperative Media and added to a list of "100 inspiring books on journalism" by the director of the Reuters Institute for the Study of Journalism at Oxford University, Rasmus Kleis Nielsen. Sounds exciting? Get your copy at our publisher's online shop.
As we enter 2020, we at Hostwriter are looking forward to continuing to push to improve the quality of journalism by increasing the number of voices and the types of stories represented in the media. We will continue with our mission to "unbias the news," enabling more voices and and broader types of stories – especially from underreported regions and subjects.
Here are more great things we are proud of from this year…
Growth of the Network
In 2019, Hostwriter increased its number of members by more than 20%, ending the year with more than 4700 members from 152 countries.
Use of our HostWIRE chatroom has grown by more than 900%! We now have more than 360 page views per day and an average of over 160 posts per month, including fellowship and funding opportunities, calls for pitches, requests for advice and posts by journalists seeking co-authors and collaborators. Log into your account and click on "Collaboration" to join the conversation!
Also on HostWIRE, we have started offering "alumni group" partnerships for journalism organizations that would like to have a private chatroom for their own members within the Hostwriter network. Our first partnership is with the German investigative organization Netzwerk Recherche. Look for more info on these partnerships in the coming months.
Technology Developments
In 2019, we relaunched Hostwriter as "mobile first" to make it easier for journalists to access the platform when they are "on the go." We also developed new "trust features" so that we can know more about each other before getting in touch on the network. One feature is the profile badges that show which members are ambassadors, Hostwriter Prize winners, Agora Alumni, and of course staff. Another feature is the recommendations tool, where you can leave feedback on members that you have collaborated with or whom you would personally recommend.
2019 Hostwriter Prizes
More than 100 journalists applied for this year's Hostwriter Prizes – a 10% increase over 2018. We are consistently impressed by the outstanding stories our members produce.
The Hostwriter Story Prize 1st Place winners were Ludovica Jona, Giacomo Zandonini, Petra Sorge, Caitlin Chandler and Chris Jones, for their story, "Invisible Borders." The team received €2000 euros.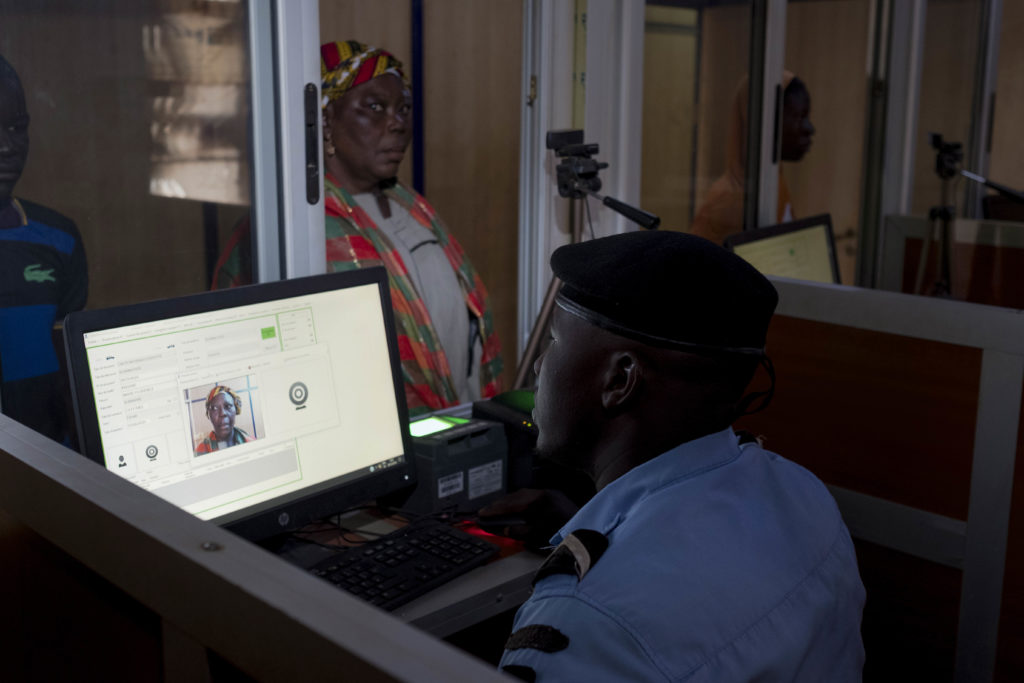 The 2nd place prize of €1000 euros went to Patrick Egwu, Annie Njanja and Mamadou Lamine for their story, "Nigeria, Kenya and Senegal: Three African countries providing solutions in fight against FGM."
This year's Pitch Prize was jointly awarded to two projects involving teams of journalists. Each team will receive €1000. The first team – Margherita Bettoni and Cecilia Anesi – pitched "Cocaine Ports."  The second team – Abhaya Raj Joshi and Monika Pronczuk – pitched "The Train to Poland."
Journalism Conferences and Presentations: Italy, Belgium, The Netherlands & More
Hostwriter staff participated in and presented at dozens of conferences and events this year, including the International Journalism Festival in Perugia, Italy, Outriders events in Belarus and Poland, the 9th European Investigative Journalism Conference & Dataharvest in Belgium and Media Rumble in New Delhi, India, among others. We also launched our book, Unbias the News, at the Global Investigative Journalism Conference in Hamburg, Germany, in September.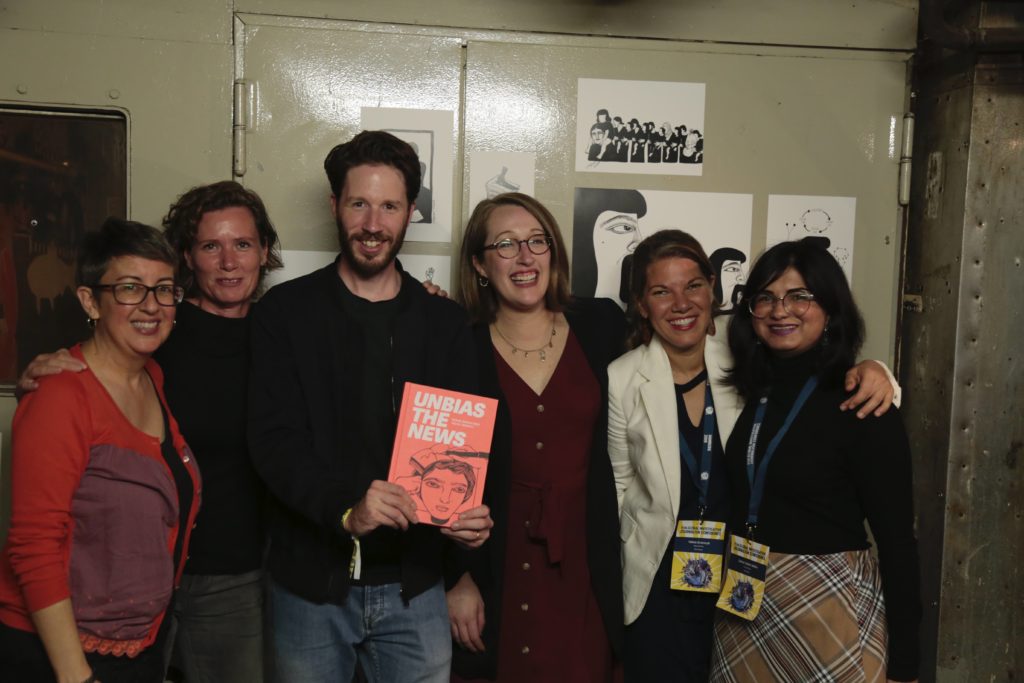 Hostwriter's staff members also presented on the topic of cross-border journalism to groups of journalists and journalism organizations – as well as journalism students – this year. Presentations were organized by institutions such as Brost Institute, Culture Goes Europe (CGE)-Erfurt e.V., European Centre for Press and Media Freedom, n-Ost, Netzwerk Recherche, taz Panter Stiftung, The Times of India, Wechange, and others. Additionally, for the first time, we were external lectures at Hamburg University, teaching a seminar on "Cross-border Journalism" to students of the Erasmus Mundus Master's Program.
Recognition for Hostwriter's Accomplishments
As a female-founded and female-run organization, we received an Honorable Mention from the American Chamber of Commerce Germany for its 2019 Female Founders Award!
We are grateful for the continued support, enthusiasm and participation of all of you, and we look forward to doing more great things together with you this year! We wish you an inspiring and fulfilling 2020!