A new survey by the Weizenbaum Institute for the Networked Society and Freie Universität Berlin has confirmed the value of the Hostwriter platform in fulfilling our mission to power the collaborative future of journalism.
The survey, conducted in early 2019, was spearheaded by Dr. Annett Heft, head of the research group Digitalisation and the Transnational Public Sphere at the Weizenbaum Institute for the Networked Society, Berlin and Research Associate at the Institute for Media and Communication Studies, Freie Universität Berlin.
How Members Use Hostwriter
When asked about the reasons for using Hostwriter, 70% of those surveyed said they use the platform to "network with colleagues and experts in general," and 63% of the survey participants said they use Hostwriter "to find colleagues for specific cross-border research."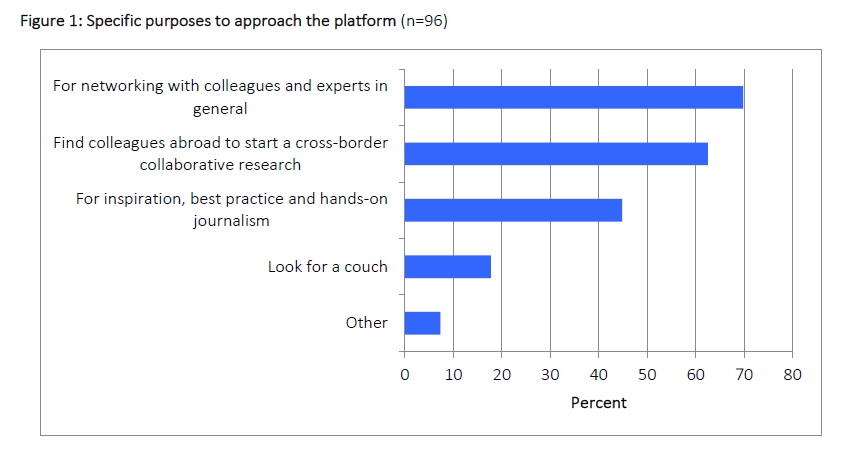 Regarding the frequency of use, roughly two thirds (66%) of those surveyed use the platform at least once per month, while approximately 28% of all respondents said they visit at least once per week.
According to the results of the survey, 72% of the respondents have found the contacts they made on the platform to be useful for their journalistic work.
Wishes for the Future
The survey also asked Hostwriter members how the organization could improve its offerings to members in the future. Two-thirds of the survey participants (66%) said they wish Hostwriter could offer more grants and scholarships. Approximately 60% of the members said they wanted more interaction, and just over half of the respondents (54%) expressed a desire for more training or training material. Additionally, 50% of those surveyed said they would like to see more publishers connected to the platform.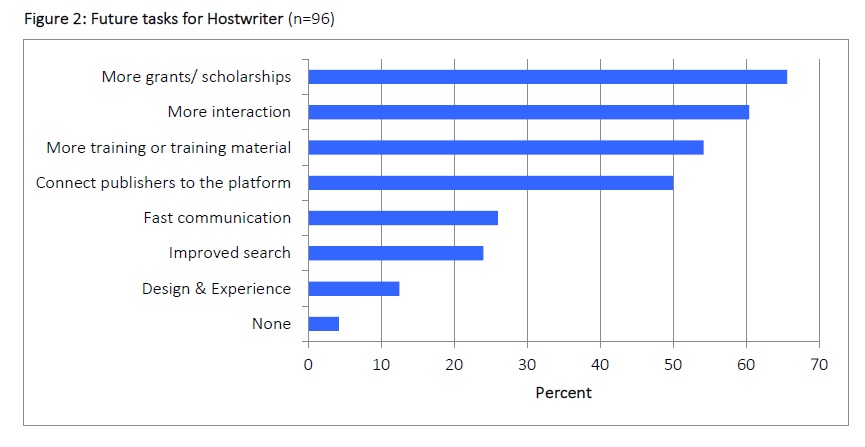 Wishes-in-Progress
Since the time of the survey, Hostwriter has already implemented or taken steps to implement projects that address some of the stated wishes of the membership. Regarding the availability of trainings, we recently announced a catalog of seven different workshops that we can present to groups of journalists and we've conducted our first live Zoom webinar, which is now available to watch on our YouTube channel.
On the topic of increased interaction, in mid-2019, Hostwriter launched Arabic-language and Spanish-language boards on our HostWIRE chatroom, to help increase engagement with members who are more comfortable communicating in their native languages. Additionally, we have been applying for institutional funding to support new grant programs organized by Hostwriter for the benefit of freelance journalists.
If you would like to read the entire results of the survey by the Weizenbaum Institute, click here.