On September 13th, 2016, the New York Times invited our Greek partner Oikomedia and us to jointly organise a panel discussion about European journalism at this year's NYT Athens Democracy Forum. Our starting point was a question: Why has European media coverage involved so many middle fingers lately?
We arranged a packed panel of industry leaders, including a Pulitzer Prize winner and the BBC Europe bureau chief, for a conversation on 'The Good, the Bad, and the Ugly: Reporting Europe in times of crisis'.
Almost 200 people attended the event at the Impact Hub in Athens. New York Times Vice President Achilles Tsaltas came to welcome everybody.
"Press coverage in times of crisis & the transformation of the European Journalism". #AthensDemocracyForum pic.twitter.com/nBYyv8SbtB

— Impact Hub Athens (@ImpactHubAthens) 13. September 2016
As well as an engaging panel discussion, the speakers each gave short individual lightning talks. The subjects included the rise of populism in European media, advocating for more cross-border collaboration to raise the quality of journalism and discussing the challenges and opportunities of social media for the industry.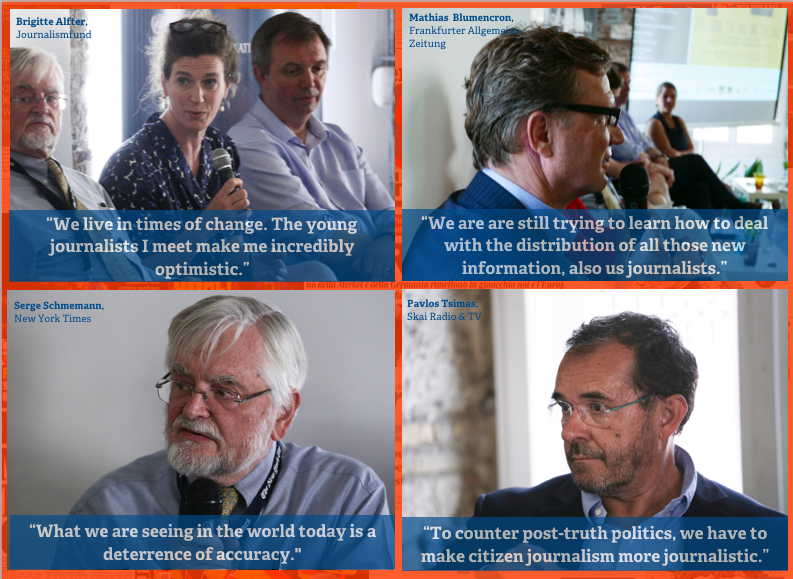 BBC Europe Bureau Chief, Simon Wilson addressed the question of why none of the attempts to create a pan-European medium really succeeded. He thinks motivation and organisation has to come from the below. "You can't impose a European media from above, it has to come from the streets up."  In the course of our live coverage he said he was happy to share his knowledge and experience, but that he had also come to the event to learn. 
Thanks to @hostwriter and @Oikomedia for hosting excellent discussion in Athens and to all the smart young journos who came along #NYTADF

— simon wilson (@siwilso) 13. September 2016
The exchange between speakers and guests was vital for us. This is why we decided to allow for 45 minutes of questions. Then this happened: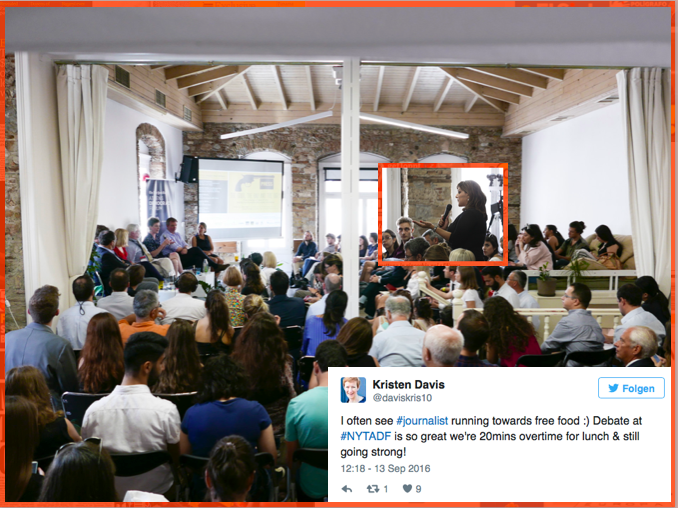 After 30 additional minutes of questions participants and speakers enjoyed the opportunity to continue discussions over lunch and drinks outside. Panelist, Mathias Blumencron said, "This is best venue to hold a journalism conference ever. Being able to engage in real conversations is incredibly important."
The whole event was recorded by the Greek foundation, Blod. The video starts in Greek, but after a short welcome note the discussion continues in English.
You can see the full video of the event here or if you click on the picture.
The event was organized with the support of Tandem Europe, an initiative which was developed by the European Cultural Foundation (Amsterdam) and MitOst e.V. (Berlin) together with Fondazione Cariplo (Milan). It is financially supported by Robert Bosch Stiftung (Stuttgart) and Stavros Niarchos Foundation (Athens).