The Agora Project's participants are ten talented journalists from all over Europe. With several elections coming up, the participants are working across borders on the topic of polarization in Europe. We fell in love with them and if you read this, you might too. 
Nikolai Atefie – 
Malmö, Sweden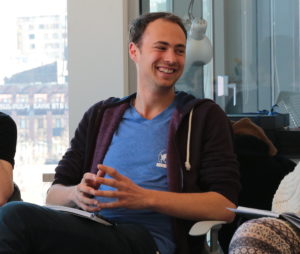 Nikolai is a freelance Scandinavia Correspondent, mainly working for the Austrian national TV & radio (ORF) and the Austrian News Agency APA. Apart from his work as a correspondent he's interested in environmental stories, especially when they involve food.
He lives on a farm outside Malmö and he kindly invited the whole Agora team over for a follow up workshop and some vegetable picking. Also, Nikolai was a child star in Austria where he co-hosted a TV show in his teens.
For the Agora Project he investigates why most stories that make it out of Scandinavia are positive. Should we all pack up and move or is there more to the story?
Cátia Bruno – Lisbon, Portugal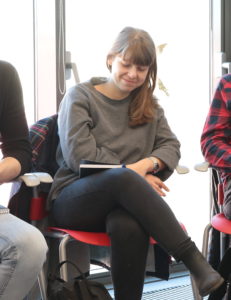 Cátia is a Portuguese journalist with a focus on international stories, whether that's covering Portugal for foreign papers like the New Statesman or Global Post or writing for the international section of the prestigious Expresso in her home country.
She appreciates people who wear double denim and proved strikingly efficient in the first phase of our virtual newsroom. 
Catia's story for the Agora Project will take her all over Portugal to figure out why the crisis stricken country hasn't embraced a far right movement compared to some of its European compatriots.
Theodosia Gkournelou – Athens, Greece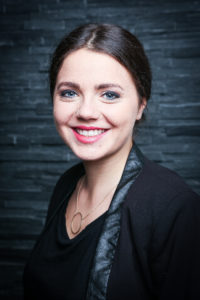 Sissy has worked as Editor-in Chief for Greek news websites and has worked for the National Greek News Agency and the Spanish magazine El Periódico de la Publicidad. She has reported on human rights issues from Spain, Germany, Guatemala, Rwanda, and Palestine and recently relocated back to Athens.
After a slight documentation debacle, Sissy tried for two whole days to make her way to Armenia for the Agora Project's first face-to-face workshop. When it became apparent that it wasn't going to work out, she made herself some tea and dutifully attended every one of our indoor sessions via Skype, always with a broad smile and a notepad.
Sissy's research for the Agora Project focuses on how media contributed to a rise of populism.
Albert Guasch – Barcelona, Spain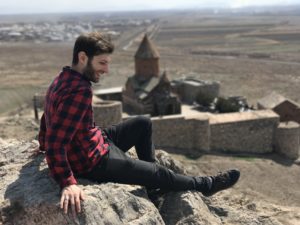 Albert is a Spanish journalist based in Barcelona. He's got a knack for everything European, particularly EU integration, its economy and its institutional design. He is an accomplished freelancer and regularly publishes in Euronews and the Catalonian news outlet Ara.
Albert also publishes academic papers and is the president of a student-led think tank that organises discussions about Europe. Pretty perfect for a European newsroom, right?!
Albert's story deals with the question of whether automation and digitalisation fuel polarisation. 
Stefan Janjić – Novi Sad, Serbia

Our Serbian participant Stefan currently works on getting his PhD in Communicology. He's worked as editor in chief of Žurnalist (Journalist) magazine and as a project coordinator for Novi Sad School of Journalism.
When most of us were still dreaming of a career fighting fires or winning Oscars, Stefan already knew his calling. He crafted and published his first newspaper at the age of six, and has lead and coordinated several journalistic projects since.
For the Agora Project Stefan visits young people across Europe who are studying to become religious leaders in their communities.
Quentin Lichtblau – Munich, Germany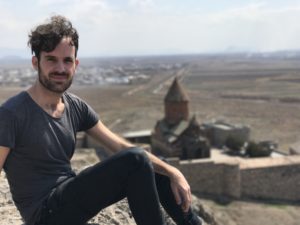 After his education at Germany's most prestigious school of journalism, Deutsche Journalistenschule, Quentin started working for Süddeutsche Zeitung mainly covering issues aimed at a younger audience.
When he's not writing stories he works as a DJ at electronic music festivals. It ain't getting more Gen-Y than this.
For his story Quentin is looking at what's left – after the left parties political decline.
Alun Macer-Wright – London, UK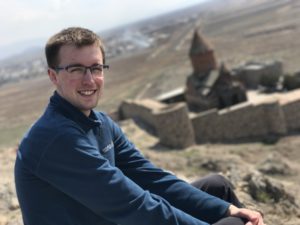 Alun has not worked for or published in a prestigious newspaper, yet. That's because he's a first year student at City University of London. The Agora Project was aimed at working journalists and talented post grads. Or so we thought.
His application stood out among almost 200 others and we only realised we were working with a youngling when he confided that he was nervous about coming to Armenia… because it would be his first plane ride! 
For the Agora Project Alun will look at how the judiciary and politics intersect, and the public's perception of the rule of law.
Andrea Milluzzi – Between Syria and Rome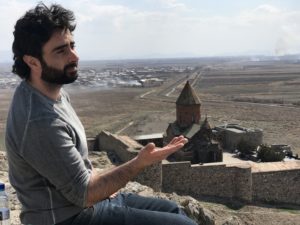 Andrea is our most experienced participant. He worked for the Italian newspaper Liberazione for seven years, founded the photojournalism collective reportageitalia, and has been freelancing from the Middle East since 2011 for L'Espresso, the Huffington Post and The Post Internazionale among others.
During the first weeks in our virtual newsroom Andrea contributed to the conversation while freelancing from Syria, which left us asking ourselves what we were doing with our lives.
For the Agora project Andrea looks at the challenges that  immigrants' children face to obtain full citizenship and voting rights in their birth country.
Jelena Prtoric – Zagreb, Croatia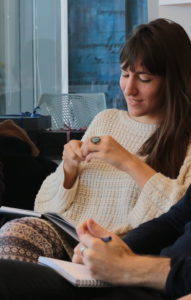 Jelena currently works for RTL Croatia and freelances for Libération Balkans, Europavox and Calvert Journal. Her interests include geopolitics, international affairs, creative technologies, theater, graphic novels and all things (former) Soviet.
Jelena is obviously a genius. How else do you describe someone who produces and publishes high quality texts alternating between three languages (Croatian, English, French)?
Her piece for the Agora Project she investigates the medical brain drain that deprives whole countrysides of proper health care.
Daniela Sala – Rome, Italy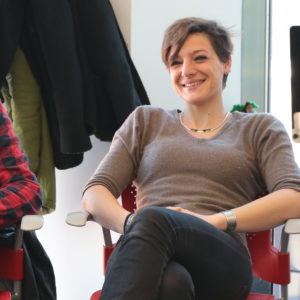 Daniela is an Italian multimedia journalist and photographer. She mostly reports on refugee issues, migration, and human and civil rights. Daniela works for Radio Radicale and has freelanced as video and radio journalist from the Middle East and from across Europe.
When organising the agenda for the Agora Project we couldn't get a hold of her as she was roaming around Argentina to shoot a documentary on travelling with disabilities.
Daniela's research looks at asylum seekers who have been denied refuge in Europe.