It was a perfectly Hamburg setting: a rustic boat cabin with anti-Nazi slogans at the entrance. The boat, the M.S. Stubnitz in the Hamburger Hafen, was the backdrop for numerous events during this year's Global Investigative Journalism Conference and at the end of the week became the host of one of the most exciting events in Hostwriter's five-year history: the launch of our first book, Unbias the News: Why Diversity Matters for Journalism.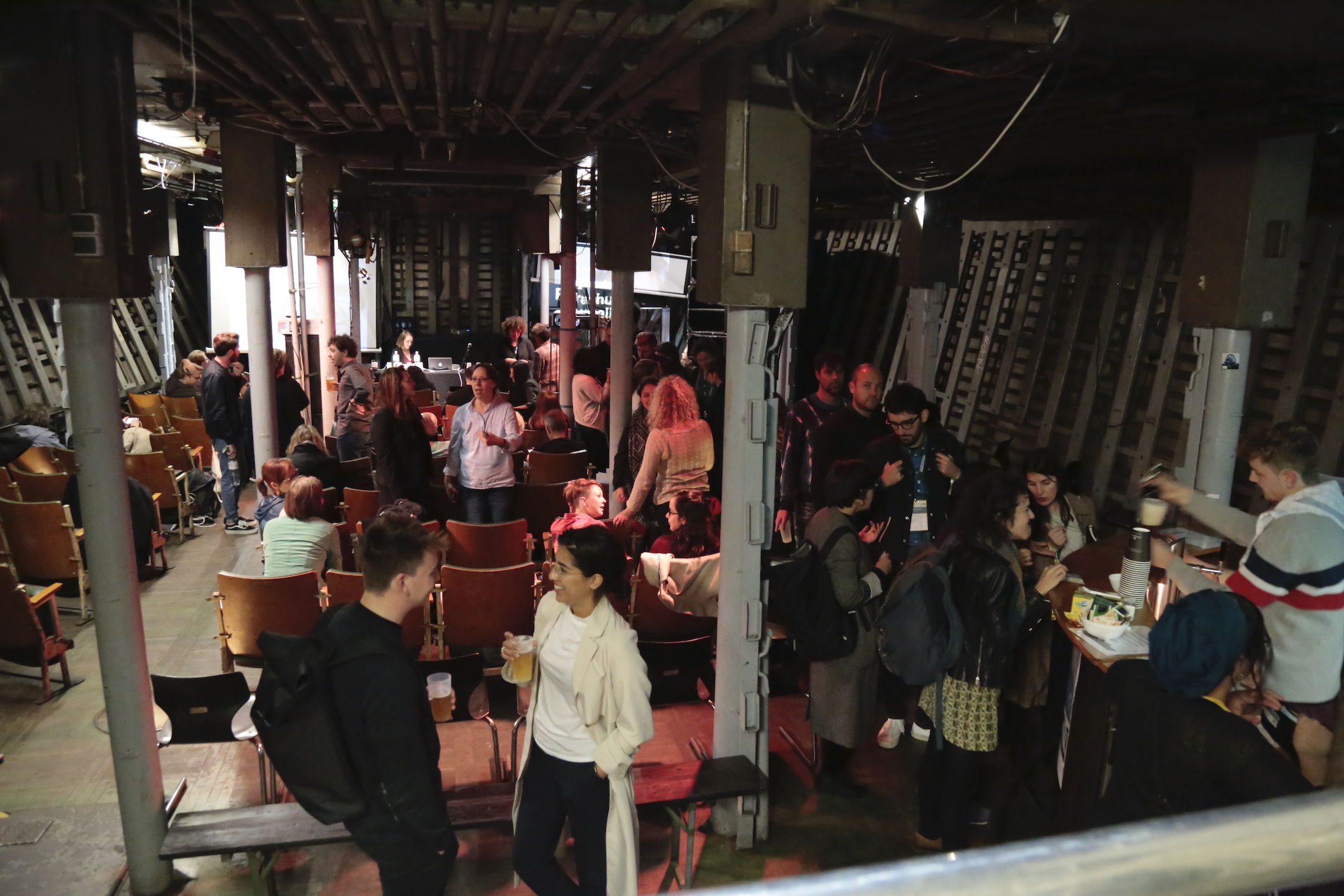 The book, which was published in collaboration with CORRECTIV, brings together 31 journalists from all over the world to discuss the blind spots that lead to bias in journalism. Featuring striking original illustrations from artist Moshtari Hilal, Unbias the News is a field guide to making journalism more inclusive.
On the evening of Friday, September 27th, we invited attendees of GIJC as well as other local journalists and media professionals to join us aboard the Stubnitz to hear a selection of readings from the book followed by a panel to discuss some of the main themes. The panel was moderated by Unbias the News editor-in-chief Tina Lee, and featured journalist Wafaa Albadry, illustrator Moshtari Hilal, Managing Editor of GIJN Tanya Pampalone, and Brigitte Alfter, the director of Arena for Journalism. (Yes, it was an #allfemalepanel.)
Hostwriter CEO and co-founder Tabea Grzeszyk introduced the event alongside CORRECTIV Publisher David Schraven, both noting that the project was an example of a successful collaboration not just between the two organizations, but also between editors and authors spanning the entire globe.
As a first reading, Pampalone read from her piece about the world-wide bias towards English, "Watch Your Language" (read the piece at GIJN.org). Lee read from the piece by journalist Kolawole Talabi (who was not present), "Big Name Isn't Always Big News," about how journalism grants can disfavor local impact. Albadry read from her piece, "Update your dictionary: What comes after #metoo?", which questions the way survivors of workplace misogyny have been treated in the aftermath of the #metoo movement. And finally, Alfter read from her piece, "Can Collaboration Help Unbias Journalism?", which suggests collaboration as a necessary form of fact-checking that can help journalists to avoid blind spots and surprises.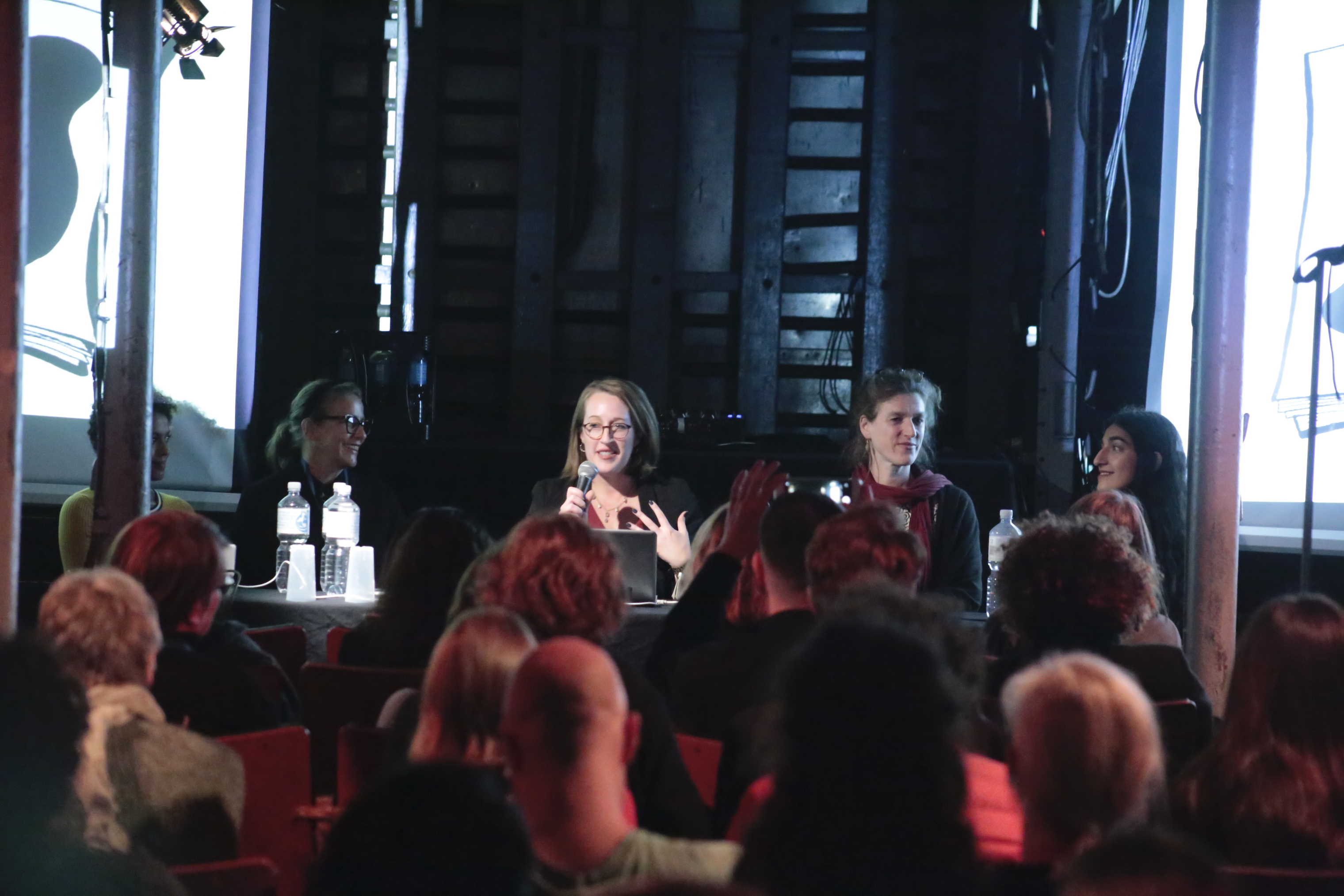 After the readings, the panel kicked off with questions for each participant and a chance to elaborate on some of the themes. The discussion was wide-ranging. Pampalone noted that English-preference is a double-edged sword: not only does it prevent news from leaving places when it is not in English, it also gives authoritarian leaders a monopoly on the discourse. Can young journalists change this by writing in their mother-tongues?
Hilal discussed the over-used term "identity," which is often connected to her work. "People ask me about my identity, as if I am the only one who has one," she noted, to laughter. The concept that some people have special "identities" while other people are "normal" and simply exist is often used to alienate people with migration background or who are LGBTQI – a relevent issue for journalists to keep in mind as they address their audiences.
Alfter elaborated on the themes of her chapter about collaboration as a mode of fact-checking. Journalists, as all people, are by their nature not necessarily aware of their own biases and blind spots. By collaborating across borders and with people with different backgrounds and viewpoints we are forced to confront and defend our own positions, which enriches journalistic quality. In an atmosphere without diversity, this kind of fact-checking doesn't necessarily take place, but without inclusion and equality, even diverse journalist outlets can become an echo chamber for the views of the powerful.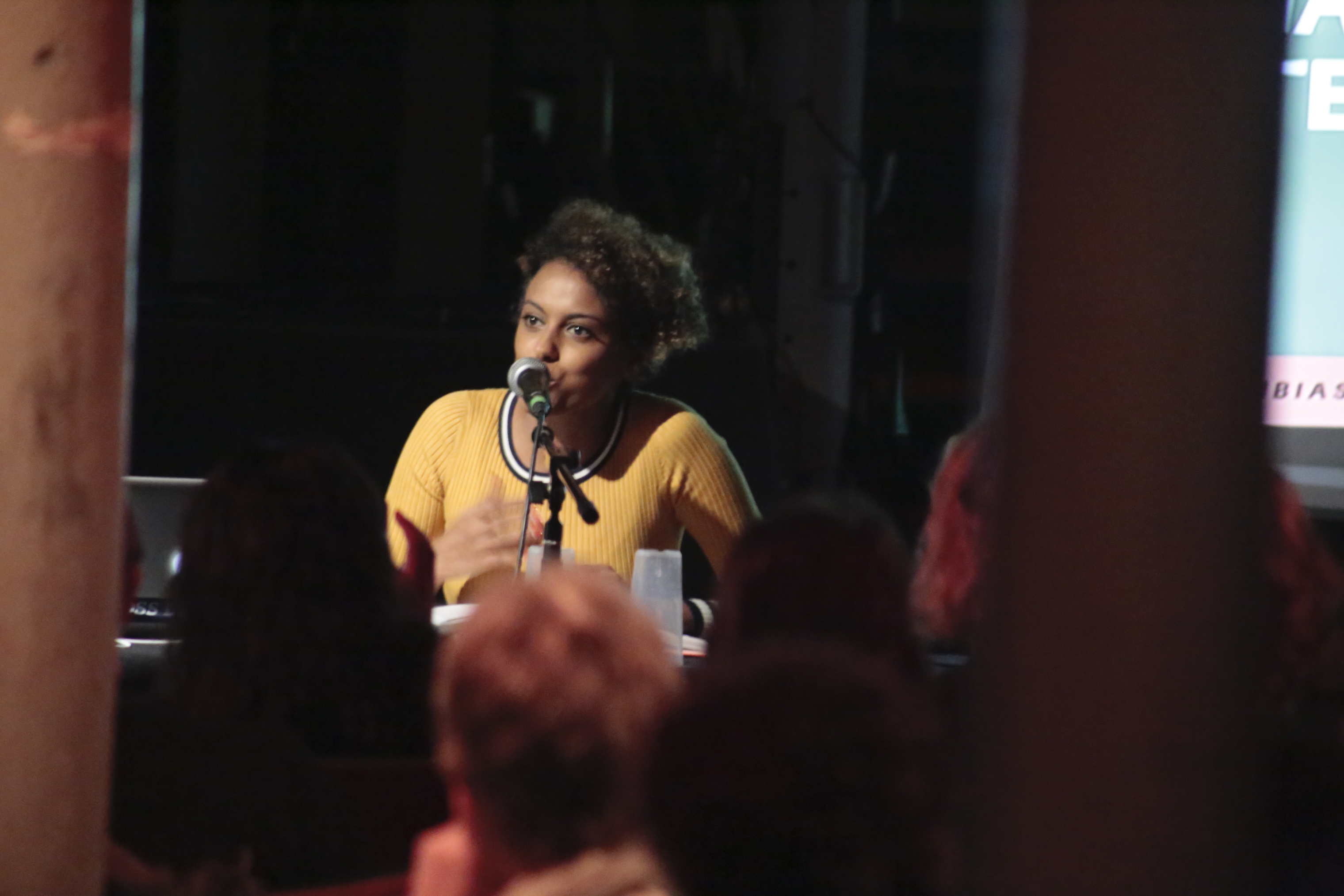 The theme of power was also touched upon by Albadry. She was asked by Lee what advice could be given to people in high positions to address workplace misogyny and the #metoo movement. Albadry noted that attacks and harassment only happen because abusers think they will get away with it (and they very often do). People in a position of power must examine what dynamics exist in their workplaces that can allow people to be victimized and aggressors to feel protected, including their own positions. Prevention is, in this way, possible. As Albadry notes in Unbias the News: "don't change the individuals in power, change the power dynamics!"
After the initial discussion, the panel was opened up to questions by a very enthusiastic audience. This turned to many other topics worth considering that contribute to journalistic bias, such as the exclusion of the scheduled castes in the Indian media eco-system, how ableism reproduces itself in the selection of who gets to work in journalism, and how the term "diversity" is over-used and manipulated, often as part of "checklist" mentality of tokenism without true inclusion.
After an inspiring conversation, we toasted to the book over the German sparkling drink of choice: Sekt. Overall, it was a thrilling evening for all of us who poured our efforts into an experimental book project. However, it is just the beginning. We hope that the attendees took back the topics (and perhaps a copy) of Unbias the News to their own countries to spark a conversation about making journalism more diverse, equitable and inclusive.
We at Hostwriter are committed to talking about it way beyond this wonderful night.