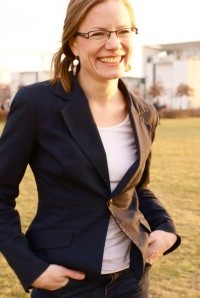 For German version please scroll down!
The Hostwriter Prize is donated by a foundation called Otto Sprenger Stiftung and honors collaboration in Journalism with up to 5.000 Euros. Tamara Anthony, one of the founders of Hostwriter, is chairwoman of the foundation. In this interview, she explains details of the Hostwriter Prize and the cooperation with the Otto Sprenger Stiftung.
What's the aim of the Hostwriter Prize?
Hostwriter's goal is to enable and simplify cooperation among journalists. The prize aims at highlighting already existing examples of cooperation, but it's also supposed to encourage journalists to collaborate across their national borders.
Why is the Hostwriter Prize donated by the Otto Sprenger Stiftung?
The foundation honors the work of Otto Sprenger, a former unionist and employee of the NDR (a German public service broadcaster). He grew up under impoverished conditions and had to fight for a good education. Otto Sprenger also did a lot of volunteer work and wanted to improve international collaboration of broadcasting companies. For Otto Sprenger the aim of his foundation was defined by supporting young journalists, collaboration and social engagement. I think that's what the Hostwriter Prize is all about.
Who's behind the Otto Sprenger Stiftung?
The board of the Otto Sprenger Stiftung consists of three journalists: Dr. Jürgen Meier-Beer (NDR), Björn Finke (Süddeutsche Zeitung) and myself as chairwoman. My endeavor is to connect young journalists and to strengthen existing projects of the Otto Sprenger Stiftung in this sector. I work voluntarily for the foundation during my spare time – just as I do for Hostwriter and journalists.network.

#hostwriterPrize – Hintergründe zur Otto Sprenger Stiftung
Der Hostwriter Prize wird von der Otto Sprenger Stiftung finanziert und zeichnet Kooperation im Journalismus mit bis zu 5.000 Euro aus. In ihrer Funktion als Vorsitzende der Otto Sprenger Stiftung hat Tamara Anthony  die Hintergründe des #hostwriterPrize in drei Fragen zusammengefasst.
Warum der Hostwriter Prize?
Das Ziel von Hostwriter ist, Kooperationen unter Journalisten zu vereinfachen und alltäglicher zu machen. Der Preis soll die guten Beispiele, die es im Journalismus schon gibt, hervorheben und gleichzeitig ein Ansporn sein, über Ländergrenzen hinweg mit Journalisten zu kooperieren.
Warum vergibt die Otto Sprenger Stiftung den Hostwriter Prize?
Die Otto Sprenger Stiftung ehrt das Lebenswerk des ehemaligen NDR Mitarbeiters und Gewerkschafters Otto Sprenger (1907-2006). Otto Sprenger hatte einen besonderen Werdegang: er kam aus sehr einfachen Verhältnissen, seine Mutter hat ihn alleine aufgezogen und darum gekämpft, dass er eine gute Ausbildung bekommt. Otto Sprenger hatte viele Ehrenämter und setzte sich sehr stark für die internationale Kooperation zwischen den Rundfunkanstalten ein. Otto Sprenger wollte mit seiner Stiftung soziales Engagement, Kooperation und Nachwuchsjournalisten fördern. Ich glaube, der #hostwriterPrize ist genau in seinem Sinne.
Wer steht hinter der Otto Sprenger Stiftung?
Im Vorstand der Otto Sprenger Stiftung sind drei Journalisten: Dr. Jürgen Meier-Beer (NDR), Björn Finke (Süddeutsche Zeitung) und ich als Vorsitzende. Mir wurde der Vorsitz für die Stiftung übertragen, damit die Otto Sprenger Stiftung im Bereich des Nachwuchsjournalismus besser vernetzt ist und bestehende Vereinsarbeit in diesem Bereich nicht einfach gedoppelt, sondern sinnvoll verstärkt wird. Die Vorstandsarbeit ist – wie auch meine Arbeit im Vorstand von journalists.network und bei Hostwriter – ehrenamtlich und ich mache sie in meiner Freizeit.