Grants of €2000 and €1000 will be made to the 1st and 2nd place winners of the Story Prize. This year, Hostwriter will award two 2nd Place Story Prizes. Additionally, two Pitch Prize winners will each receive a grant of €1000 to help with the completion of their collaborative projects.
Hostwriter Story Prize Winners
1st Place – €2000
Vanilla fever: Fear sours the sweet scent of Madagascar's success
By Ingrid Gercama, The Netherlands and Nathalie Bertrams, Belgium
Vanilla, the world's most popular flavor, has become more expensive than silver, making it big business in Northern Madagascar. The vanilla trade however flourishes at the cost of the island's last remaining rainforests and has been described as "worse than cocaine." Ingrid and Nathalie's article explores how the "vanilla fever" fuels a spiral of crime, money laundering, speculation and corruption. They used Hostwriter to connect with fellow journalists for advice about the situation in Madagascar. Through the journalists' recommendations, Ingrid and Nathalie met local colleagues who alerted them to the deeper, hidden layers of the vanilla story – the environmental crime that feeds the vanilla price speculation.
2nd Place – €1000
Fish for cash: How the EU robs Africa of its seafood
By Kolawole Talabi, Nigeria and Arthur Debruyne, Mexico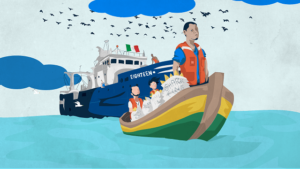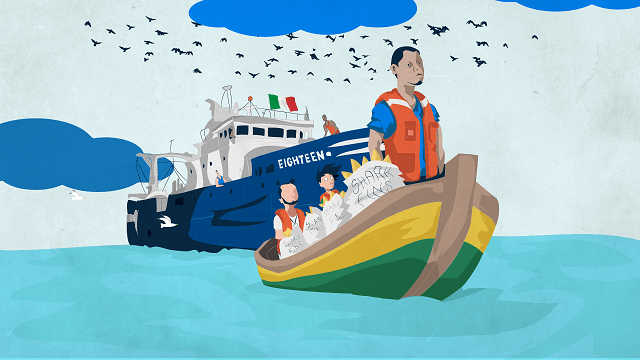 In the space of eight months, ocean conservationists working to raise public awareness on the dangers of overfishing, caught at least two European vessels, one from Spain and the other from Italy, with shark fins between 4 and 3600 kilos on board, a clear violation of European regulations protecting sharks. Months after the incidents, evidence suggests that Brussels is willing to look the other way in a bid to protect its interests abroad. In the course of the investigation, Kolawole and Arthur worked also with an Italian journalist to follow developments in Italy.
2nd Place – €1000
A woman's game: The first naturalised Dane female soccer player with Afghani roots
By Irene Caselli, Mariangela Maturi, Claudia Jardim and Emil Staulund Larsen, Denmark
"It's a boys' game," is a refrain that is often repeated to young sportswomen. But what happens when a girl feels passionate about soccer? Nadia Nadim is a strong role model for young girls in Denmark: she started playing soccer in a refugee camp after a long journey she took with her mother and her four sisters from Afghanistan. She is now the first naturalized Dane to represent the Danish national soccer team and plays for Manchester City in England. Through Hostwriter, Irene and her team got in touch with Emil, who helped them as a translator during the project.
Hostwriter Pitch Prize Winners
Pitch Prize Winner – €1000
Ukraine: Illegal timber export to the EU
By Taras Zozulinskyy, Ukraine and Márton Sarkadi-Nagy, Hungary
Pitch Prize Winner – €1000
Female Genital Mutilation in Senegal, Kenya and Nigeria
By Patrick Egwu, Nigeria, Annie Njanja, Kenya and Mamadou Lamine, Senegal
Here's what the prize judges had to say about the winning stories/pitches.
Vanilla fever: Fear sours the sweet scent of Madagascar's success
• "It connects to western audiences because of its hot topic, it's a sexy pitch linking to cocaine, it deals with environmental destruction, but it's more tangible because it focuses on one product which we all know: vanilla."
• "The Vanilla story beautifully ties in the complex angles of crime, corruption, economy and ecology, but manages to present this complexity as a people story which I can relate to and that leaves an impact on a personal level."
Fish for cash: How the EU robs Africa of its seafood
• "It shows how the EU policies are affecting African nations and how these fishermen might become refugees or migrants to the EU one day soon."
• "Written after extensive investigative reporting in Sierra Leone and several European countries, the authors present their well-designed story – in combination with skillful use of infographics – to make the complicated matter comprehensible for those who have not previously heard about the topic."
A woman's game: The first naturalised Dane female soccer player with Afghani roots
• "I feel that the story is a good example of how to use resources in the different countries and continents to find a common thread."
• "The story highlights serious issues that citizens of diverse cultures are facing. But the story does not have a negative tone; on the contrary, it has a glimmer of hope. The girl, who is the catalyst of this story, speaks a lot between the lines."
Ukraine: Illegal timber export to the EU
• "Following the money seems to be a promising way to expose illicit businesses. This story, therefore, has all the potential for an economic thriller."
• "The story is original — one would hardly expect that a major spot for illegal timber transactions is Ukraine, considering that South Asia, Central Africa and South America are normally the places where such schemes take place."
Female Genital Mutilation in Senegal, Kenya and Nigeria
• "It's so important to report about this topic, which influences health, society, tradition, etc."
• "Even when its forbidden by law, a lot of families go on with this brutal and cruel tradition where even mothers force their own daughters to undergo this, which includes lifelong pain and fear."
The announcement was made at the Outriders Summit in Warsaw, Poland, where journalists came together to exchange ideas and tips regarding challenges and best practices in reporting.
Hostwriter is an open network that helps journalists to easily collaborate across borders. We connect more than 3,700 journalists from 137 countries to seek and offer help, whether in the form of local advice, story collaboration or accommodation. We see cross-border journalism as a tool to overcome national bias and prejudice, ultimately contributing towards better informed, more accountable and democratic societies.
€5000 in prize money is donated by the Otto Sprenger Stiftung. The foundation honors the work of German journalist Otto Sprenger, a former unionist and employee of the German public service broadcaster NDR, who was committed to supporting young journalists, collaboration and social engagement. Hostwriter contributed €1000 for the second Story Prize 2nd Place winner.
Click here for a link to our online press kit, including high-res photos.
Press Contact:
Olalla Tuñas Martínez, Head of Communications
olalla@hostwriter.org
+49 157 827 992 33