By Zahra Salah Uddin

Earlier this month, the Hostwriter/Unbias the News team took a much-awaited trip to Perugia, Italy for this year's International Journalism Festival. What's normally an annual occurrence took place this year after a break of two years due to the pandemic. And to me, it seems that the hiatus also set the tone for this year's festival. It was almost as though being in public in large groups has never been done before.
Long lines outside panel locations reminiscent of Berlin clubs, loud murmurs in tiny spaces for networking events, and lots and lots of journalists scurrying about in the small town of Perugia. But the air was filled with opportunities and that strange joyous feeling of meeting colleagues and like-minded journalists in person again. A feeling many of us took for granted in pre-covid times (wild, right?). At the same time, for me, there were moments during the festival when a solitary walk through the streets of Perugia felt desperately needed to recuperate from the intensity of networking.
Our team hosted the panel 'Underrepresentation is Misrepresentation' to discuss how newsrooms can expand beyond diversity as political correctness and to suggest practical ways in which media organizations can actually be inclusive and diversify beyond workshops and seminars to allow for more accurate and trustworthy news. The panel was a hit! The room was packed with people (as much as covid regulations allowed, anyway). I'm really glad that the Unbias the News team got to share with a live audience all about our work, something we haven't had a chance to do since we launched during lockdown.


Here's what my colleagues had to share about their takeaways from IJF22:

Mercy Abang, co-managing director: "The International Journalism Festival was a great gathering to meet and network with colleagues but more importantly, it needs to be more inclusive to reflect a representation of journalists from the global community. Equal media representation will decrease the world's bias toward minority groups and I'm glad more panels reflected that during conversations. However, the event itself needs to ensure more participation from journalists around the world. I was also pleased to see panels about funding for media organizations because as we are all aware, more newsrooms are shutting down operations, thereby threatening the continued existence of public interest media. Funders should follow patterns and support organizations that ensure a more representative media and dismantle some of the existing limiting structures in media. We need more conversations about the creator economy and the big technology companies. Glad our team was able to also talk about what we do at Unbias The News!"

Julia Vernersson, co-managing director: "As a first-time attendee of the festival, I was struck by the countless networking opportunities and great possibilities to make new connections in the journalism world; during side events and in between the official program. This festival definitely holds a special place within the journalism scene. However, it did once again make me think about who can easily travel to attend this space and benefit from the informal parts of the program, and those who did not get a chance to be present."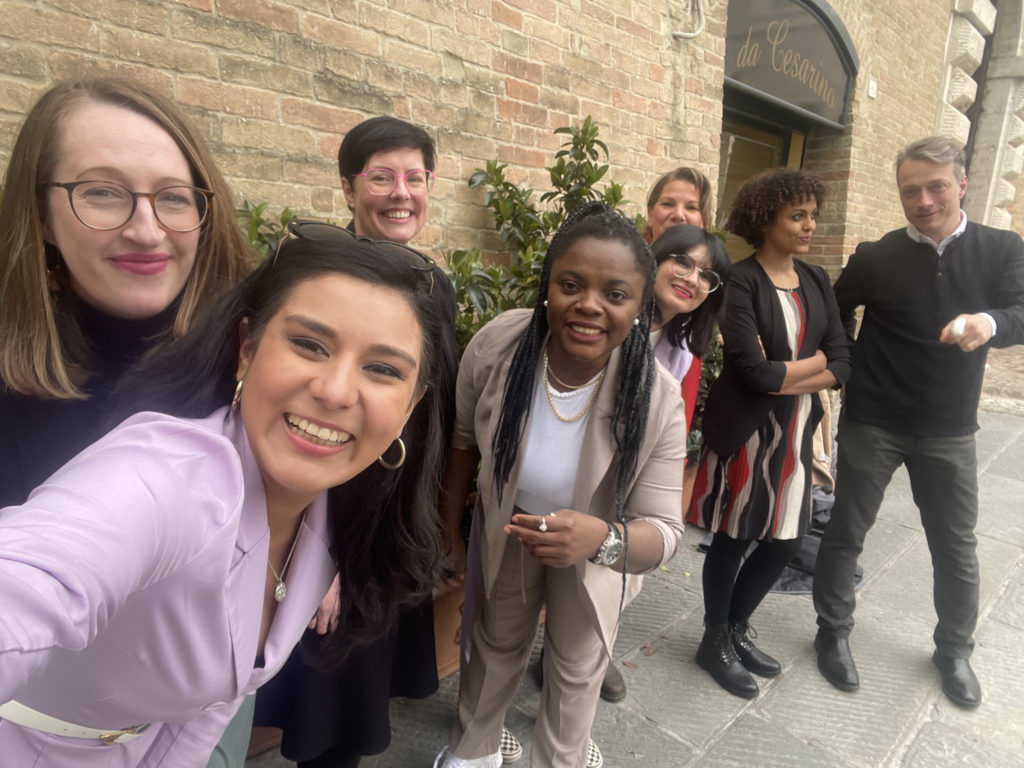 Tina Lee, Editor-in-Chief: "Some of the issues we have been talking about at Hostwriter and Unbias the News for years now are starting to sink in for the journalism community at large. Pay equity, mishandling of fixers, visas as a barrier to press freedom, and pervasive lack of diversity of perspectives were all mentioned on different panels. But now that more people know about these problems, it's time to go beyond talking and start implementing solutions. And for funders, to create some pressure for more equity in journalism by funding those organizations doing the work."

Gabriela Ramirez, Head of Multimedia: "I am happy to share that my main takeaways from Perugia come from the conversations I had while wandering around the city or drinking coffee with old and new friends that attended the festival this year. Nevertheless, I was inspired by participating in some great panels that made me think about my role at Unbias The News and trying to achieve more inclusive and diverse journalism. My favorite panels were on the topic of innovation, community engagement, diversity and inclusion, and leadership. Here are some quotes that made me think:"
On Innovation: "Jumping on every new feature launched by a tech platform is not innovation. Innovation has to be something that is genuinely useful for the audience or the newsroom."

Chris Moran from The Guardian
On Community: "Instead of asking why they can't trust us, let's ask why is it that we haven't been able to be trusted."

Megan Lucero, Director of The Bureau Local
On Diversity: "Promoting diversity and inclusion in newsrooms is not the responsibility of only one person in the organization."

Anita Li from The Other Wave
On Leadership: "The world is changing, and we also need to change with the industry. Leaders need to teach people how to disrupt the system."

Anita Zielina, Director of Leadership and Innovation at CUNY's Newmark J-School.
All in all, this gathering of journalists from various organizations around the world really made me realize how refreshing it is to be in the same space with people from the field of journalism. I believe that the inspiration from the exchange of ideas and newly formed friendships will stay with me as we work together and make journalism an inclusive and diverse field. I'm already thinking about the panel I want to pitch for next year's festival. Can't wait to visit again next year and strengthen the bond with more journalists!