How it started | How it's going
How we set out to 'unbias the news' and why I'd love you to join our mission!
Holy cow, it's been a ride. From founding Hostwriter as a collaboration network in 2013 to launching our own feminist cross-border newsroom Unbias the News this year. I couldn't be more proud of what we have achieved as a team! And it's exactly at this moment that I'm excited to share some personal news with you.
After eight years of running the organization, I will be going on a sabbatical in 2022. Join me on a look back!
With lots of 💜, Tabea
"With Hostwriter, the world looks different!" I'm laughing tears today when I look at this video from 28 August 2013, the day my co-founder Sandra Wild and I added our signatures to Tamara Anthony's, completing the notarially certified founding documents of Hostwriter. I find it intriguing that in this mobile recorded and poorly edited document of our company history, we closed with the words "…the world looks different!" As if we already anticipated the journey that followed, dedicated to a different kind of journalism that would empower its audience to see the world in a different way.
Six months later, on 7 May 2014, we launched live at the re:publica conference in Berlin, Europe's largest conference on internet and digital society issues. Hostwriter's open-source collaboration platform for journalists pioneered at a time when Slack channels and alumni platforms hadn't mainstreamed yet. Clearly, our own excitement over connecting with international journalists across the world exceeded our expertise in agile software development or product thinking at the time;) Nevertheless, Hostwriter's basic code was "good enough" to attract its first 100 registered members within a day 💪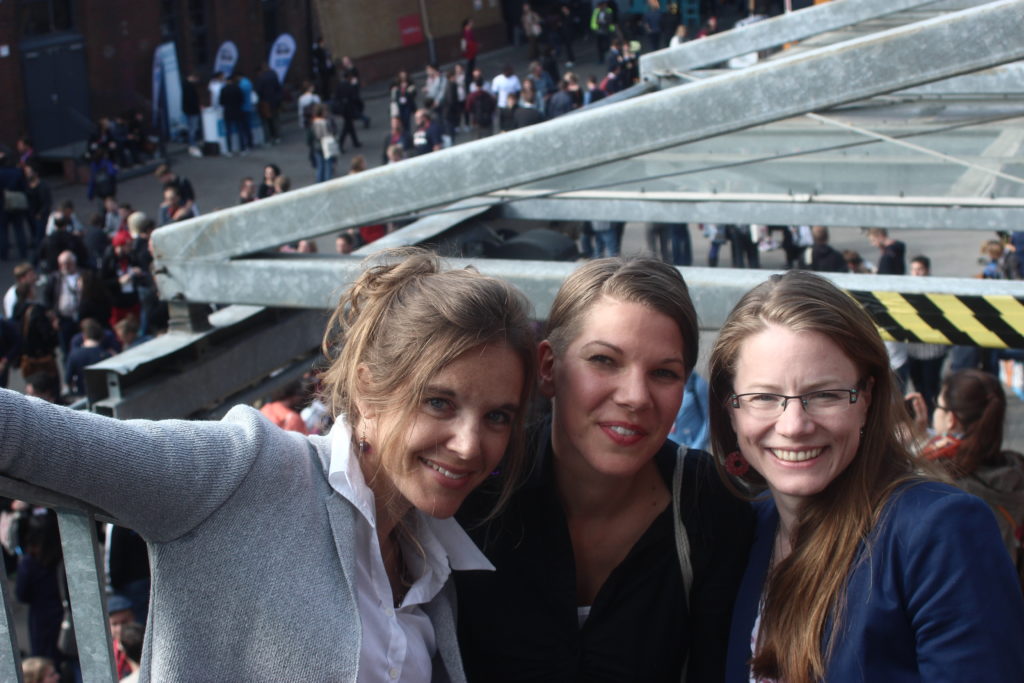 One of the most beautiful experiences has been to encounter the power of collaboration that made the project grow. Without the support of dear journalism friends such as Michael Stang, Pauline Tillmann or Juliane Metzker who volunteered as ambassadors since launch day, Hostwriter would probably never have grown beyond the national borders of Germany. Step by step, the network grew from a project of three German women into an international media hub that today connects more than 6,000 journalists in 150+ countries for collaboration and mutual support, run by a team of women journalists with nine different nationalities.
In 2016, the "Panama Papers"- investigation shook the world and started to change the way impact journalism is practiced today. Colleagues from 107 media organizations in 80 countries collaboratively analyzed 11.5 million leaked documents to expose unethical offshore practices in which shell corporations were used for fraud, tax evasions and avoiding international sanctions. At Hostwriter, this collaborative effort felt like a revelation! We already had a cross-border network – but how exactly would cross-border journalism work in practice? How could we learn the method and make it accessible to our members?
This is when Brigitte Alfter – investigative journalist, entrepreneur, book author and director at ARENA for journalism in Europe – truly opened a door for us. Based on her own experience and countless interviews with practitioners, she had developed a step by step guide and published several books on cross-border collaborative journalism. We ended up producing a cross-border journalism training booklet together that we have used to train Hostwriter members and journalism colleagues around the world ever since.
For the following years, my husband claims that he checked on social media when he wanted to know whether I would be home for the weekend. I'm afraid he was right: Starting with the first team members Felix Franz and Olalla Tuñas Martínez, we were traveling like crazy, hosting panels at the New York Times Athens Democracy Forum and at the Perugia International Journalism Festival, later joining the Global Investigative Conferences in Johannesburg and Hamburg, the Dataharvest conference, re:publica, etc. After winning the jury prize at the Google Impact Challenge in 2018, we held our first-ever Hostwriter Ambassador Summit in Warsaw and produced a video series, introducing our mission of collaboration instead of competition. "You want to tell great stories? You're not alone!"
In 2019, we published the illustrated anthology "Unbias the News. Why diversity matters for journalism," testing our approach of remote cross-border collaboration for the first time. We fell in love with it and turned the project into our permanent mission! This year, we launched our own feminist cross-border newsroom Unbias the News, publishing stories by journalists who face structural barriers or discrimination in the field.
Following our first "call for pitches," we received almost 800 story ideas by colleagues mostly based in countries where press freedom is under attack. We kicked off an "Indie Newsroom Alliance" with Sahara Reporters, Global Voices, African Arguments, Scroll.in and others to join forces with like-minded newsrooms and leverage our local impact. The very first investigation "Vaccine Hesitancy: The Pfizer Kano Case" prompted a response by UNDP sharing that they will consider our findings for their future pro-vaxx-communication in Nigeria – and it's been a wild publication ride ever since 🙂
Check out our website for stories and more 💫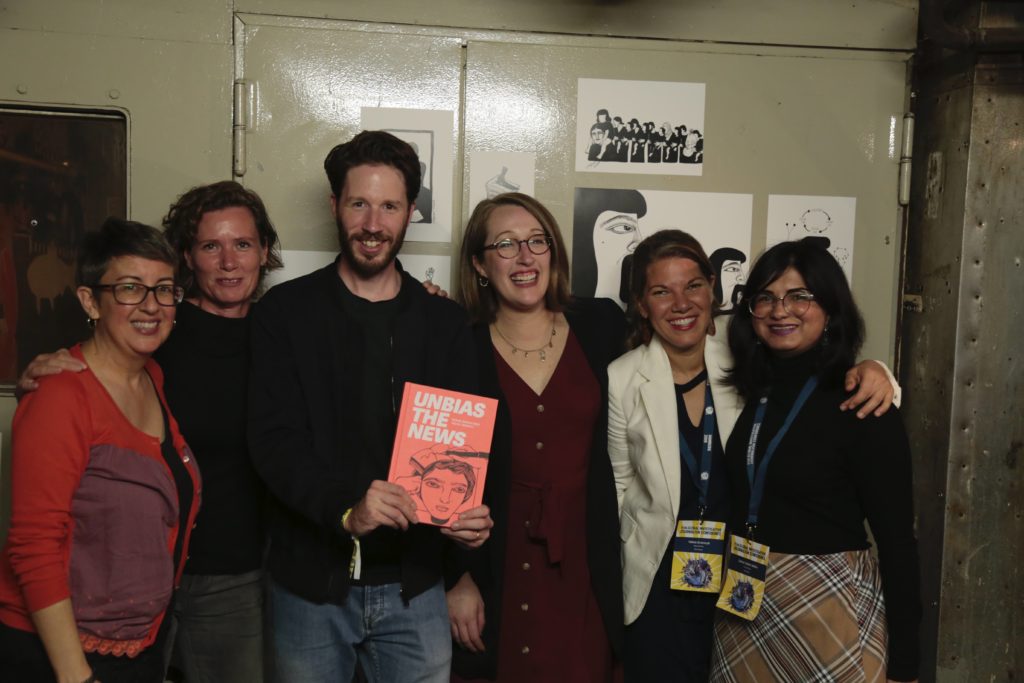 Looking ahead, I'm excited to warmly introduce you to my incredible colleagues who will take on the lead as new Managing Directors: Please meet Mercy Abang, media entrepreneur and current member of Unbias the News-editorial team, and social entrepreneur Julia Vernersson, our current COO. I'm happy that Hostwriter's organizational commitment of making journalism a more equitable and inclusive space is now also represented in the leadership team!
I want to wholeheartedly thank the team for its commitment, passion and empathy during all these years. My admiration goes to our fearless editor-in-chief Tina Lee and her editorial team Ankita Anand, Mercy Abang, Wafaa Albadry, Purple Romero, Gaby Ramírez and Zahra Salah Uddin. Cheers to our CTO Katja Heitmann and Art Director Andy Wilke!
As for myself, I'll be joining Hostwriter's supervisory board to continue supporting the team. If you'd also like to join our mission – please hit the button underneath! We can issue tax-deductible donation receipts for supporters based in Germany and the U.S. ✨